 September 7th & 8th | Los Angeles
Two Day VIP Live Event
Strategy | Transformation | Results
STEP INTO YOUR NEXT UPLEVEL
days
hours
minutes
seconds
days
hours
minutes
seconds
For the first time, we're bringing you an event that focuses on the practical: the sales, strategy and systems...
...and pairs that knowledge with the one thing that will decide whether you hit your goals or not: your mindset.
Most leaders and teachers out there only help you do the outer work. They focus on the business strategy, the step by step plans and maybe even the implementation...
But they're completely leaving out the other half of the equation:
Your mindset.
Even with the world's smartest business strategy in place, you'll keep hitting the same internal blocks if your mindset is working against you….
If you don't think you're worthy of success and a higher income,
You won't let yourself fully step into it.
And trust me, I know you might be thinking...
My mindset is good, I just need to know how.
We got you. We'll go there.
In fact, we're going to encourage you to create an even bigger vision and set your goals way higher than they are right now...
And we're going to show you the exact step-by-step practical strategies you need to make them all a reality.
But listen, if you don't pair it with the mindset work... the next level-up is going to be a hard reach for you.
If you don't address the fears and limiting beliefs that are holding you back, You'll revert back to your 'set point' time and time again.
(You can think of it like the yo yo-effect in weight loss!)
...i.e. you're constantly chasing the next sale and feel like you can never see what it would look like to have a 7 figure business on autopilot, creating space to spend time on doing the things you love... instead of worrying where your next sale will come from.
So, if you want to expand into your full potential and claim the success, impact and income you truly want, then….
You can't bring your limitations to
the next level with you.
You with me?
If you bring your overwhelm, your feelings of unworthiness and your fears with you, this is what I've seen happen time and time again (and know from my own experience):
You'll keep working hard, hoping that one day it'll be enough.
You'll feel like a fraud and won't allow yourself to claim the success or maintain it.
You'll undercharge and overdeliver, totally exhausting yourself.
The list goes on.
That's exactly what we'll help you overcome when you join us at Success & Soul LIVE! You'll go deep with us, focusing on both the inner AND the outer work, because they are equally important elements of creating the soul-aligned success you deserve.
📲 The energy-lean automated systems you can implement to have your business running without you, so you can focus on doing what you love.
...aka see the insanely easy back-end of BossBabe & duplicate it for yourself.
💸 How to double your monthly income by implementing an organic sales strategy that fills your inbox with leads every single day.
...i.e. as serial, multiple 7-figure entrepreneurs, we break down every single thing we know to be true about scaling your sales.
📈 How to fully understand the niche you operate in and own it as a leader in your space, creating a step-by-step strategy to go from where you are now, to creating that massive vision currently on your vision board.
...we'll help you get clear on where you want to go, then show you exactly how to get there (minus the overwhelm).
✨ Uncover the subconscious limiting beliefs you've held that have left you feeling like an imposter, struggling to achieve your next uplevel and step into the authentic confidence you need to create your biggest vision.
...it's time to feel lighter, happier and fully aligned.
Powerful Mentorship
Deep down you know you're capable of so much more.
But, without doing the transformational work to break through your financial blocks, fully embody your power and stand in your worth, you are limiting your own success.
How can you focus on your life's work when you're paralyzed by overwhelm, comparison and self-imposed limitations that keep you small? (Insider secret: you can't...)
Community Support
Have you ever felt isolated or lonely in your business?
Trust me, I know how hard it is to truly rise up and shine when you're at home alone in your yoga clothes all day… Versus being supported, inspired and held by a community of like-minded women. Whether you come to this event alone or with a friend, we guarantee you're going to leave with a new soul sister.
Practical Strategy
Once you're supported in coming up with a clear vision, you'll need a strategy and structure that aligns with your soul -- and moves you forward into action and implementation. We'll be diving into the specific tips and tactics you need to create the massive shifts that you're ready to step into.
We'll be focusing on helping you scale your sales, grow your community and streamline your systems.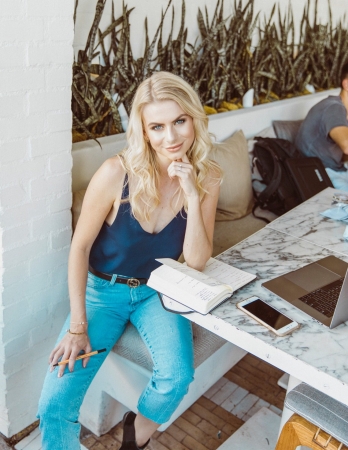 BossBabe Co-Founder & Co-CEO, Natalie Ellis
At just 27-years-old, Natalie is a serial 7-figure entrepreneur and one of the creators and strategist behind BossBabe, one of the fastest growing online communities of ambitious women. With a global online community of over 1.3 Million women, its mission is to inspire and support women to turn their dreams into a reality through building successful businesses.
Natalie specializes in social strategy to scale your business in community growth and revenue rapidly and effectively. Through curated online courses, mentorship programs, in-person events, Natalie & her co-CEO Danielle Canty have built BossBabe into a multi-million dollar business in a matter of just three years.
Natalie has worked with academic institutions and government organizations to advise on young entrepreneurship, as well as winning over 11 national awards for her work in the space.
Danielle Canty is the co-CEO of BossBabe. After starting her own business at just 22, Danielle has gone on to become a serial 7-figure entrepreneur.
As a trained business coach and chiropractor, Danielle has experience with both brick and mortar and online based businesses, using this experience to support thousands of other women within BossBabe, in creating their own companies.
Through operational precision and strategic thinking, Danielle understands what it takes to build streamlined, profitable companies.
Danielle understands that being a successful entrepreneur is not just about the business skills but about personal development, facing new challenges, and pushing through fears.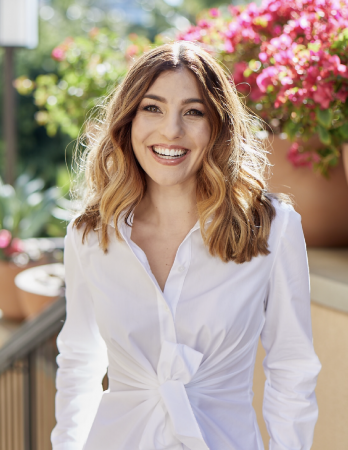 BossBabe Co-Founder & Co-CEO, Danielle Canty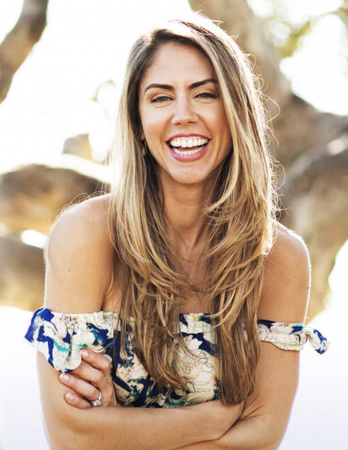 Therapist, Coach & Entrepreneur, Alyssa Nobriga
Alyssa Nobriga is an entrepreneur and leader in the coaching and consciousness industry. She's a licensed marriage and family therapist (#93522) and works with individuals, CEOs and senior executives, as well as facilitating transformational mastermind groups.
She obtained her masters degree in Clinical Psychology, specializing in Mind-Body Psychotherapy from The Chicago School of Professional Psychology. Alyssa holds a second master's degree in Spiritual Psychology, with an emphasis on Consciousness, Health and Healing.
She is a graduate of Byron Katie's School for The Work, is certified as a success coach and has extensive training in Imago Couples Therapy as well as an advanced certification from the Hakomi Institute in mindfulness-based therapeutic practices.
What's Included?
Success and Soul Live is a full two-day live event experience with Natalie, Danielle and Alyssa.
On The Agenda:
✅ Set your massive vision and goals for the rest of this year and beyond, then turn it into a strategic plan so you have specific steps to take towards achieving those goals.
✅ Uncover and work through the subconscious limiting beliefs you didn't know were holding you back from your next uplevel.
✅ See behind a multi-7 figure business sales and marketing strategy, to understand how to scale your revenue online with zero paid ads.
✅ Take a look under the hood of the BossBabe business and see how to set your systems up for automated success.
✅ Break free of your money blocks so you can have more fun creating your next level of income.
✅ Step into your authentic power so you can be the badass business woman you really are and confidently share your voice and gifts.
✅ Feel energized, inspired and motivated to move into action and follow-through.
✅ Become part of an uplifting sisterhood and build meaningful relationships where you feel inspired and supported by a community of like-minded women.
...we're turning an art gallery into a full indoor and outdoor immersive experience.
WHERE: The East Angel, The Arts District, Los Angeles
WHEN: 9am-6pm
Learn from and meet Natalie, Danielle & Alyssa as they lead you through sessions and experiences in this full-day event.
You'll also meet and network with women just like you, so feel free to come alone!
...hosted in a luxurious private home, day two is for those of you who are ready to take their transformation to the next level.
WHERE: Private Home, Brentwood, Los Angeles
WHEN: 10am-5:30pm
This is a smaller, more intimate day of sessions with Natalie, Danielle & Alyssa as they lead you through deeper transformation and very detailed, specific strategy.
Tickets for day two are very limited, so get yours early.
Full Access to Day One, hosted at The East Angel, in The Arts District, Los Angeles.
✅ Luxury gift bag included.
✅ Transformational sessions.
✅Interactive workshops.
✅Drinks & snacks provided.
Full Access to Day One, hosted at The East Angel, in The Arts District, Los Angeles,
& Full Access to Day Two, hosted in a luxurious private home in Brentwood.
✅ Luxury gift bag included.
✅ Transformational sessions.
✅Interactive workshops.
✅Drinks & snacks provided.
Spaces limited.
Who is this event for?

Success and Soul live welcomes female entrepreneurs from around the world who are ready to work on their own personal influence, brand, and success. This means YOU.
What if I don't know anyone there, will I feel out of place?
We have curated an experience to make sure you are woven into the community whether you come with someone you know or by yourself. You'll find it easy to connect with the other like-minded women as we've designed the whole experience to be fun, uplifting and inspiring. This is more than just a group of people at an event, it's a supportive sisterhood where you are 100% welcome and accepted, no matter where you're at.
Can I bring a friend?
Our goal is to help as many people as possible, and get more recognition for female founders doing amazing things. Please invite your friends to share this powerful experience with you – just copy the link at the top of the page and send to them right now!
What is the dress code?
Whatever you feel good in, is perfect. Anything you feel inspired to wear that makes you feel like you, wear that! Casual chic is always a good option, as well as layers in case you get warm or cold.
What time is registration?
Registration begins at 8:00am and the event will start at 9am sharp. Be a good entrepreneur and be on time – how you do one thing is how you do everything.
What happens after I buy my ticket?
You'll receive a confirmation email and nearer the event we'll continue to send you all of the information you'll need. There's no need to print your ticket to bring along to the event as we'll have you on the guestlist. Please email us if you'd like to change the name on your ticket, as they're non refundable.
Is lunch provided?
We provide the experts, the experience, the strategy, and the growth. Lunch is not provided, but we will have drinks and snacks available. We encourage you to use this opportunity to network with other BossBabes you meet on the day. Bring your lunch ahead of time, find a breakout area and get to know your BossBabes! We always know there is so much value in you guys getting together to support and collaborate!
Is this an expense I can claim for through my business?
Your training and development is something that can usually be claimed as a business expense to write off against tax. We are not authorized to give legal or tax advice though, so please check with your accountant and lawyer to understand your expenses.
Can you really achieve epic transformation in just 2 days?
Yes, there is power in immersions, they accelerate your results. And, the in-person experience will support you in creating meaningful relationships which help you in maintaining your success.
If you want to really show up for yourself, then don't resist or postpone what's really important to YOU. There is always a transformation available on the other side of resistance, and if you show up with an open heart, you can have amazing breakthroughs and aha-moments in just 2 days.
What if I can't keep up and everyone's more advanced than me?
There will be women at all different levels and you are 100% welcome no matter where you're at. Whether you're more 'advanced' or not, we all have money blocks holding us back and we all need a support and clear strategy that allows us to bring our vision to life. Trust that you are exactly where you're supposed to be and we will welcome you with open hearts.
Full Access to Day One, hosted at The East Angel, in The Arts District, Los Angeles.
✅ Luxury gift bag included.
✅ Transformational sessions.
✅Interactive workshops.
✅Drinks & snacks provided.
Full Access to Day One, hosted at The East Angel, in The Arts District, Los Angeles,
& Full Access to Day Two, hosted in a luxurious private home in Brentwood.
✅ Luxury gift bag included.
✅ Transformational sessions.
✅Interactive workshops.
✅Drinks & snacks provided.
Spaces limited.